wholesale rohs ce approved hs code led linear panel light
Product Description
1.Product DescriptionThese
led ceiling light
fixtures produced by SHCET adopt a backlit design technique, and this light technology is a new type of energy saving lighting. The LED ceiling light fixture features good color consistency, multi-color temperature, high luminance, long use age, energy saving and environmental, thus ensuring LED ceiling light fixture can replace traditional lighting systems. The LED ceiling light fixture can be widely used in hotels, offices, residences and conference rooms. The LED ceiling light fixture is made of a shell body, light source, light guide plate, diffuser plate and reflective sheeting. The light strip is around the shell body and aids the light to have special lighting effect. 2.Specification
Slim Round
LED Panel Light
Model
CET-127-3W
CET-127-4W
CET-127-6W
CET-127-9W
CET-127-12W
CET-127-15W
CET-127-18W
CET-127-24W
Lamp Power
3W
4W
6W
9W
12W
15W
18W
24W
LED Chips Qty 
15pcs
20pcs
30pcs
45pcs
60pcs
75pcs
90pcs
120pcs
Model
CET-127-5W
/
CET-127-8W
CET-127-12W
CET-127-15W
/
CET-127-20W
CET-127-30W
Lamp Power
5W
/
8W
12W
15W
/
20W
30W
LED Chips Qty 
25pcs
/
40pcs
60pcs
75pcs
/
100pcs
150pcs
Lamp Diameter 
Φ85mm
Φ105mm
Φ120mm
Φ145mm
Φ170mm
Φ190mm
Φ225mm
Φ300mm
Cut Out Size
75mm
95mm
100mm
125mm
150mm
180mm
205mm
280mm
Lamp Material
Aluminum+ PMMA  Or  Aluminum + PS
Shine Angle
180°
IP Rating
IP40
SPD
2.5KV
LED Chips Model
2835SMD 0.2W
CRI
70-75 Or 80-85
Power Factor
0.6-0.7 Or 0.9-0.97
Input Voltage
AC85-277V Or AC165-265V
Body Color
white;   Silver;   Golden;  Black;  Light Wooden;  Dark Wooden
Color Temperature
3000-3500K; 4000-4500K; 5000-5500K;6000-6500K;
Remark
The led driver can be: Non dimmable or Dimmable or with 120 minutes emergency battery
Certificates
BIS ,SASO ,LVD-EMC,RoHs ,IES ,TUV, EAC, ISO9001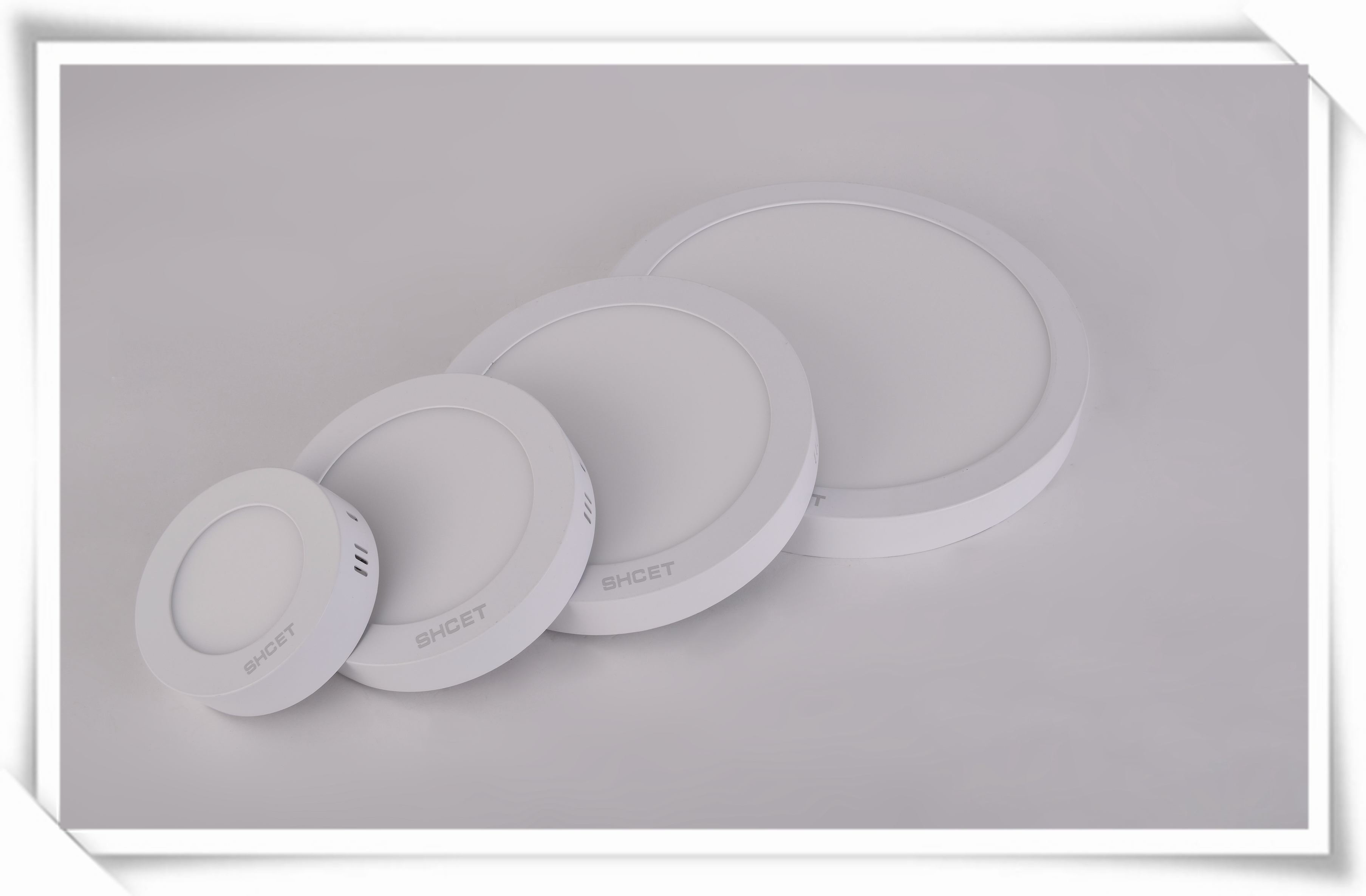 Surface Round LED Panel Light
Model
CET-127S-6W
CET-127S-12W
CET-127S-18W
CET-127S-24W
Lamp Power
6W
12W
18W
24W
LED Chips Qty
30pcs
60pcs
90pcs
120pcs
Model
CET-127S-8W
CET-127S-15W
CET-127S-20W
CET-127S-30W
Lamp Power
8W
15W
20W
30W
LED Chips Qty
40pcs
75pcs
100pcs
150pcs
Lamp Diameter 
Φ120mm
Φ170mm
Φ220mm
Φ300mm
Lamp Material
Aluminum+ PMMA  Or  Aluminum + PS
Shine Angle
180°
IP Rating
IP40
SPD
2.5KV
LED Chips Model
2835SMD 0.2W
CRI
70-75 Or 80-85
Power Factor
0.6-0.7 Or 0.9-0.97 
Input Voltage
AC85-277V Or AC165-265V
Body Color
white;   Silver;   Golden;  Black;  Light Wooden;  Dark Wooden 
Color Temperature
3000-3500K; 4000-4500K; 5000-5500K;6000-6500K;
Remark
The led driver can be: Non dimmable or Dimmable or with 120 minutes emergency battery
Certificates
BIS ,SASO ,LVD-EMC,RoHs ,IES ,TUV, EAC, ISO9001
  Slim Sqaure LED Panel Light
Model
CET-128-3W
CET-128-4W
CET-128-6W
CET-128-9W
CET-128-12W
CET-128-15W
CET-128-18W
CET-128-24W
Lamp Diameter 
85*85mm
105*105mm
120*120mm
145*145mm
170*170mm
190*190mm
225*225mm
300*300mm
Cut Out Size
75mm
95mm
100mm
125mm
150mm
180mm
205mm
280mm
LED Chips Quantity 
15pcs
20pcs
30pcs
45pcs
60pcs
75pcs
90pcs
120pcs
Lamp Power
3W
4W
6W
9W
12W
15W
18W
24W
Lamp Flux
270LM
360LM
540LM
810LM
1080LM
1350LM
1620LM
2160LM
Lamp Material
AL+ PMMA
Shine Angle
180°
IP Rating
IP40
Surger Protector
2.5KV
LED Chips Model
2835SMD 0.2W
CRI
70-75 Or 80-85
Power Factor
0.6-0.7 Or 0.9-0.97
Input Voltage
AC85-277V Or AC165-265V
Body Color
white;   Silver;   Golden;  Black;  Light Wooden;  Dark Wooden
Color Temperature
3000-3500K; 4000-4500K; 5000-5500K;6000-6500K;
Remark
The led driver can be: Non dimmable or Dimmable or with 120 minutes emergency battery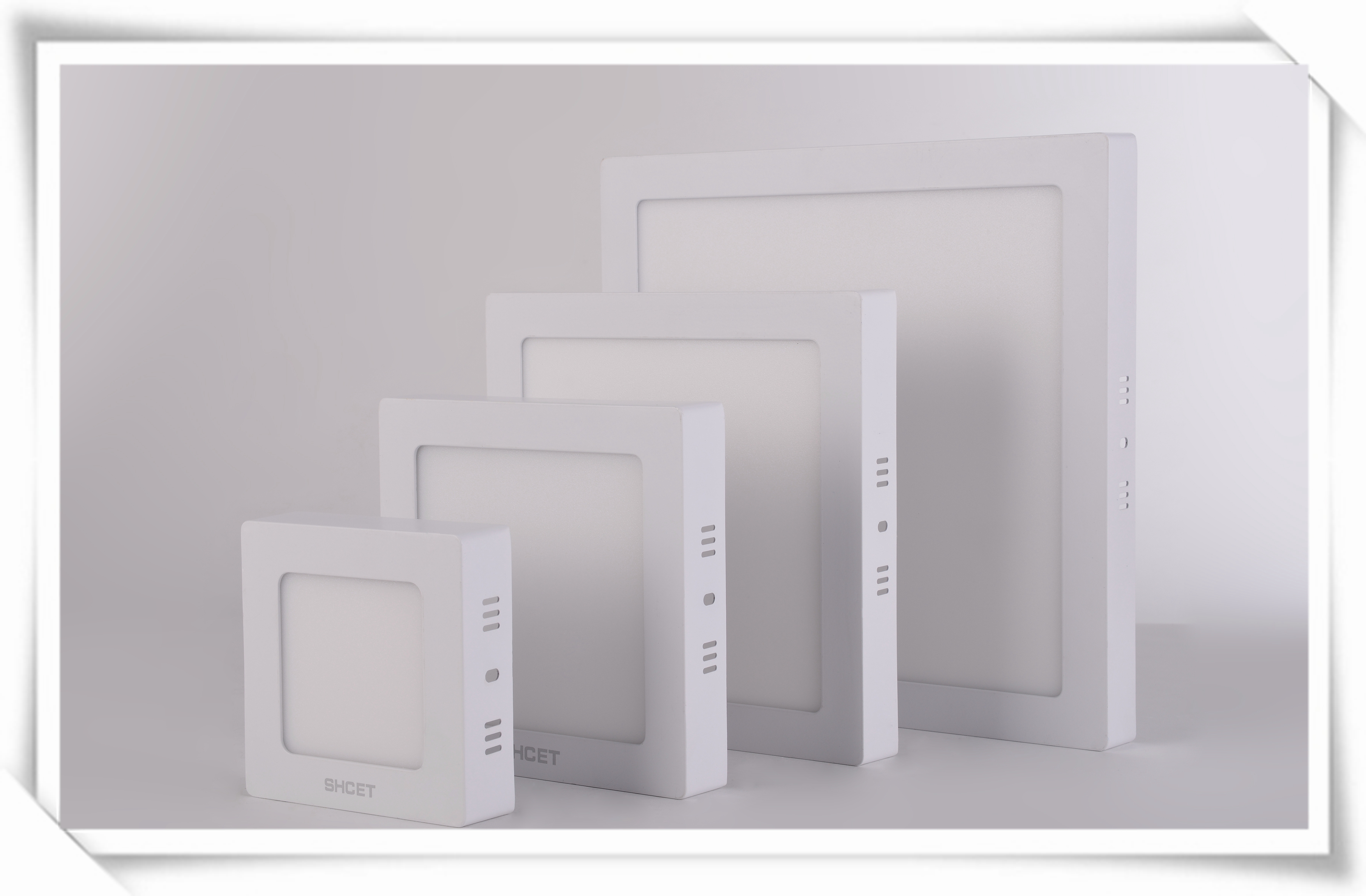 Surface Square LED Panel Light 
Model
CET-128S-6W
CET-128S-12W
CET-128S-18W
CET-128S-24W
Lamp Power
6W
12W
18W
24W
LED Chips Qty
30pcs
60pcs
90pcs
120pcs
Lamp Diameter 
120*120mm
170*170mm
220*220mm
300*300mm
Lamp Material
Aluminum+ PMMA  Or  Aluminum + PS
Shine Angle
180°
IP Rating
IP40
SPD
2.5KV
LED Chips Model
2835SMD 0.2W
CRI
70-75 Or 80-85
Power Factor
0.6-0.7 Or 0.9-0.97 
Input Voltage
AC85-277V Or AC165-265V
Body Color
white;   Silver;   Golden;  Black;  Light Wooden;  Dark Wooden 
Color Temperature
3000-3500K; 4000-4500K; 5000-5500K;6000-6500K;
Remark
The led driver can be: Non dimmable or Dimmable or with 120 minutes emergency battery
Certificates
BIS ,SASO ,LVD-EMC,RoHs ,IES ,TUV, EAC, ISO9001
Plastic Round LED Panel Light
Model
CET-132-6W
CET-132-12W
CET-132-18W
CET-132-24W
Lamp Power
6W
12W
18W
24W
Lamp Diameter 
 Φ118mm
 Φ143mm
 Φ168mm
 Φ218mm
Cut Out Size
100mm
125mm
150mm
200mm
Lamp Material
Plastic cladding aluminum
Shine Angle
180°
IP Rating
IP40
SPD
2.5KV
LED Chips Model
2835SMD 0.2W
CRI
70-75 Or 80-85
Power Factor
0.6-0.7 Or 0.9-0.97 
Input Voltage
AC85-277V 
Body Color
white;
Color Temperature
3000-3500K; 4000-4500K; 6000-6500K;
Certificates
BIS ,SASO ,LVD-EMC,RoHs ,IES ,TUV, EAC, ISO9001
PC Surface Frame:
Model
CET-132S-6W
CET-132S-12W
CET-132S-18W
CET-132S-24W
Lamp Power
6W
12W
18W
24W
Lamp Diameter 
 Φ120mm
 Φ145mm
 Φ170mm
 Φ220mm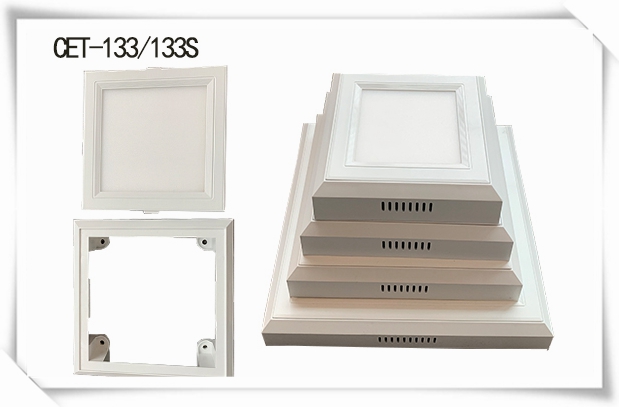 Plastic Square LED Panel Light 
Model
CET-133-6W
CET-133-12W
CET-133-18W
CET-133-24W
Lamp Power
6W
12W
18W
24W
Lamp Diameter 
118x118mm
143x143mm
168x168mm
218x218mm
Cut Out Size
100x100mm
125x125mm
150x150mm
200x200mm
Lamp Material
Plastic cladding aluminum
Shine Angle
180°
IP Rating
IP40
SPD
2.5KV
LED Chips Model
2835SMD 0.2W
CRI
70-75 Or 80-85
Power Factor
0.6-0.7 Or 0.9-0.97 
Input Voltage
AC85-277V 
Body Color
white;
Color Temperature
3000-3500K; 4000-4500K; 6000-6500K;
Certificates
BIS ,SASO ,LVD-EMC,RoHs ,IES ,TUV, EAC, ISO9001
PC Surface Frame:
 Model
CET-133S-6W
CET-133S-12W
CET-133S-18W
CET-133S-24W
Lamp Power
6W
12W
18W
24W
Lamp Diameter 
120x120mm
145x145mm
170x170mm
220x220mm
Rimless Surface Round LED Panel Light
Model
CET-129R-16W
CET-129R-24W
CET-129R-30W
CET-129R-48W
Lamp Power
16W
24W
30W
48W
LED Chips Qty
90pcs
168pcs
240pcs
240pcs
Lamp Diameter 
 Φ120mm
 Φ175mm
 Φ225mm
 Φ300mm
Lamp Material
Aluminum + PS
Shine Angle
180°
IP Rating
IP40
SPD
2.5KV
LED Chips Model
2835SMD 0.2W
CRI
70-75 Or 80-85
Power Factor
0.6-0.7 Or 0.9-0.97 
Input Voltage
AC85-277V Or AC165-265V
Body Color
white;   
Color Temperature
3000-3500K; 4000-4500K; 5000-5500K;6000-6500K;
Certificates
BIS ,SASO ,LVD-EMC,RoHs ,IES ,TUV, EAC, ISO9001
 Rimless Surface Square LED Panel Light
Model
CET-129S-16W
CET-129S-24W
CET-129S-30W
CET-129S-48W
Lamp Power
16W
24W
30W
48W
LED Chips Qty
90pcs
168pcs
240pcs
240pcs
Lamp Diameter 
120x120mm
175x175mm
225x225mm
300x300mm
Lamp Material
Aluminum + PS
Shine Angle
180°
IP Rating
IP40
SPD
2.5KV
LED Chips Model
2835SMD 0.2W
CRI
70-75 Or 80-85
Power Factor
0.6-0.7 Or 0.9-0.97 
Input Voltage
AC85-277V Or AC165-265V
Body Color
white;   
Color Temperature
3000-3500K; 4000-4500K; 5000-5500K;6000-6500K;
Certificates
BIS ,SASO ,LVD-EMC,RoHs ,IES ,TUV, EAC, ISO9001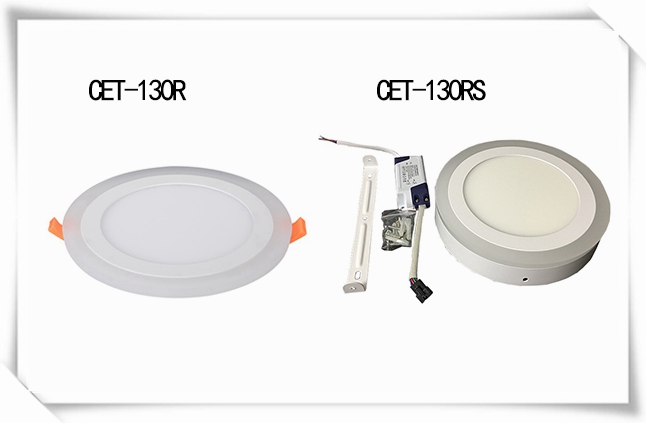 2 In 1 Colorful Slim Round LED Panel Light
Model
CET-130R-6W
CET-130R-9W
CET-130R-18W
CET-130R-24W
CET-130R-36W
Lamp Diameter 
Φ105mm
Φ145mm
Φ195mm
Φ245mm
Φ320mm
Cut Out Size
75mm
105mm
155mm
210mm
280mm
LED Chips Qty
30pcs
45pcs
90pcs
120pcs
180pcs
Lamp Power
3+3W
6+3W
12+6W
18+6W
24+12W
Lamp Material
Aluminum + Acrylic
Shine Angle
180°
IP Rating
IP40
SPD
2.5KV
LED Chips Model
2835SMD 
CRI
70-75  
Power Factor
0.6-0.7  
Input Voltage
AC85-265V Or AC165-265V
Body Color
white 
Color Temperature
In the middle color can choose: 3000-3500K; 4000-4500K; 6000-6500K;  the side color can choose:  Blue; Red; White; Green; Purple; Pink; Orange; Yellow OR RGB with controller
Certificates
BIS ,SASO ,LVD-EMC,RoHs ,IES ,TUV, EAC, ISO9001
 2 In 1 Colorful Surface Round LED Panel Light
Model
CET-130RS-6W
CET-130RS-9W
CET-130RS-18W
CET-130RS-24W
CET-130RS-36W
Lamp Diameter 
Φ105mm
Φ145mm
Φ195mm
Φ245mm
Φ320mm
LED Chips Qty
30pcs
45pcs
90pcs
120pcs
180pcs
Lamp Power
3+3W
6+3W
12+6W
18+6W
24+12W
Lamp Material
Aluminum + Acrylic
Shine Angle
180°
IP Rating
IP40
SPD
2.5KV
LED Chips Model
2835SMD 
CRI
70-75  
Power Factor
0.6-0.7  
Input Voltage
AC85-265V Or AC165-265V
Body Color
white 
Color Temperature
In the middle color can choose: 3000-3500K; 4000-4500K; 6000-6500K;  the side color can choose:  Blue; Red; White; Green; Purple; Pink; Orange; Yellow OR RGB with controller
Certificates
BIS ,SASO ,LVD-EMC,RoHs ,IES ,TUV, EAC, ISO9001
2 In 1 Colorful Slim Square LED Panel Light
Model
CET-130S-6W
CET-130S-9W
CET-130S-18W
CET-130S-24W
CET-130S-36W
Lamp Diameter 
105*105mm
145*145mm
195*195mm
245*245mm
320*320mm
Cut Out Size
75mm
105mm
155mm
210mm
280mm
LED Chips Qty
30pcs
45pcs
90pcs
120pcs
180pcs
Lamp Power
3+3W
6+3W
12+6W
18+6W
24+12W
Lamp Material
Aluminum + Acrylic
Shine Angle
180°
IP Rating
IP40
SPD
2.5KV
LED Chips Model
2835SMD 
CRI
70-75  
Power Factor
0.6-0.7  
Input Voltage
AC85-265V Or AC165-265V
Body Color
white 
Color Temperature
In the middle color can choose: 3000-3500K; 4000-4500K; 6000-6500K;   the side color can choose:  Blue; Red; White; Green; Purple; Pink; Orange; Yellow   OR RGB with controller
Certificates
BIS ,SASO ,LVD-EMC,RoHs ,IES ,TUV, EAC, ISO9001
 2 In 1 Colorful Surface Square LED Panel Light
Model
CET-130SS-6W
CET-130SS-9W
CET-130SS-18W
CET-130SS-24W
CET-130SS-36W
Lamp Diameter 
105*105mm
145*145mm
195*195mm
245*245mm
Φ320mm
LED Chips Qty
30pcs
45pcs
90pcs
120pcs
180pcs
Lamp Power
3+3W
6+3W
12+6W
18+6W
24+12W
Lamp Material
Aluminum + Acrylic
Shine Angle
180°
IP Rating
IP40
SPD
2.5KV
LED Chips Model
2835SMD 
CRI
70-75  
Power Factor
0.6-0.7  
Input Voltage
AC85-265V Or AC165-265V
Body Color
white 
Color Temperature
In the middle color can choose:3000-3500K; 4000-4500K; 6000-6500K; the side color can choose: Blue; Red;White;Green;Purple;Pink;Orange;Yellow OR RGB with controller
Certificates
BIS ,SASO ,LVD-EMC,RoHs ,IES ,TUV, EAC, ISO9001
 3.Features1.The light body adopts the aluminum housing with good quality and the integrated ultrathin design to guarantee the better heat dissipation.2.The LED ceiling light fixture adopts the high quality 2835SMD chips, and the lamp flux of single chip reaches the 28-30LM, thus can guarantee the high light effect.3.The LED ceiling light adopts the IC( integrated circuit) constant current LED driver, ensuring the security when the
LED Light
is being used.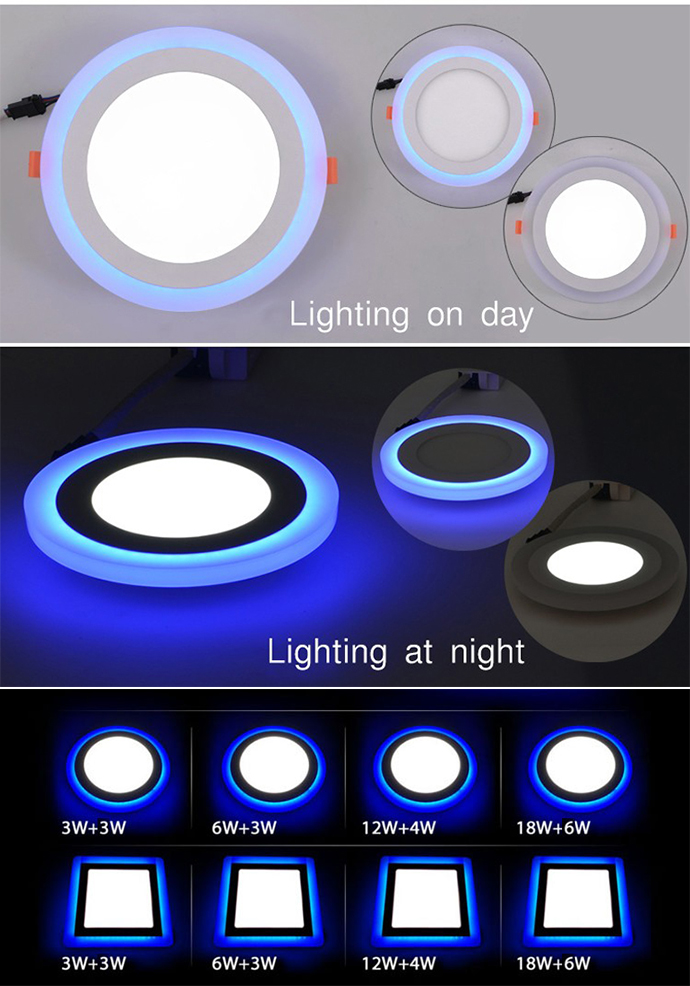 4.Details 
 5.More Products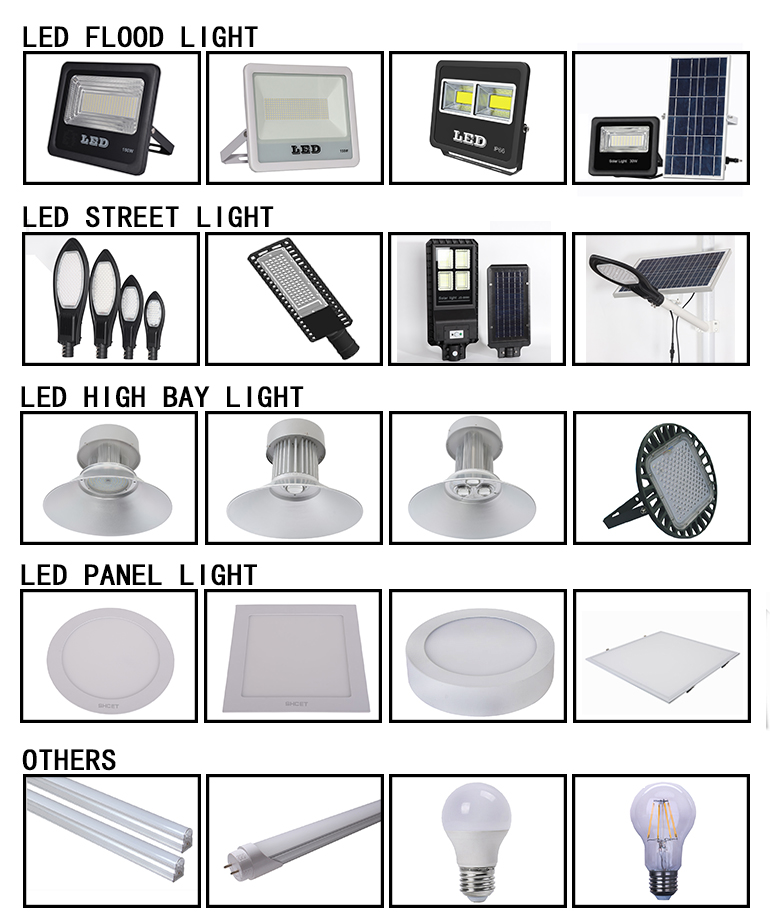 6.ApplicationLED panel lights are widely used and have replaced the trend of grille lamps; LED panel lights are mainly used in:1.ceiling (instead of the original grid lamp)2.walls (not only for lighting purposes, but also for artistic expression)3.installation body (pursuit of practical and artistic combination, convenient and simple installation)4.other (can also be used elsewhere, such as train carriages or large mobile cars, counters, etc.)
  7.Our Company

 8.Packaging&Shipping&Certification
  9.FAQQ1: Can I have a sample for testing?A: Yes, we can offer free sample, but you should afford the shipping cost.Q2: Can I add my logo on the products?A: Yes, OEM and ODM are available for us.Q3: How can I get the after-service?A: We will send you the free spare parts if the problems caused by us. If the products cannot be repaired, we will send you new free quantity together with next order.Q4: Do you have inspection procedures for products?A: our products100% self-inspection and testing before packing. Q5: Can I have a visit to your factory before the order?A: Sure, welcome to visit our factory. Here is our factory address:  #7 Tongyi Industrial Area, Zhongshan City, GuzhenOur factory is near Guangzhou airport, and we can pick you up in the airport,   Hotel booking service is available.Q6: How about delivery time of the order?A: 15-20 days after getting deposit.Q7: How about payment terms?A:  20%-30% deposit, the rest payment balance against B/L. If have regular order and good order quantity, we can give delay payment.   Contact us if you need more details on Led Linear Panel Light. We are ready to answer your questions on packaging, logistics, certification or any other aspects about Led Panel Light Hs Code、Rohs Led Light Panel Glass. If these products fail to match your need, please contact us and we would like to provide relevant information.
Product Categories : LED Panel Light > Slim Led Panel