3.3kV / 6kV / 10kV mine flameproof and intrinsically safe frequency converter series
| | |
| --- | --- |
| Unit Price: | 40000 USD |
| Min. Order: | 1 Set/Sets |

| | |
| --- | --- |
| Transportation: | Land,Ocean |
Product Description
Product overview
The product adopts SPWM technology, high-performance V / F control and speed sensor-less vector control technology, multi-unit cascade topology structure, equipped with dry film capacitor, cold resistance
The water cooling mode is adopted; It is suitable for 6kV or 10kV input voltage power supply, 3.3kV, 6kV, 10KV voltage level motor drive control, especially suitable for coal mine
It can be used for long-distance drive control of heavy-duty motors such as high-power scraper conveyor, crusher, transfer machine and belt conveyor; It has the advantages of large starting torque, high power factor and soft start
It has many excellent characteristics, such as dynamic, long-distance power supply, multi machine power balance function and so on.
Product structure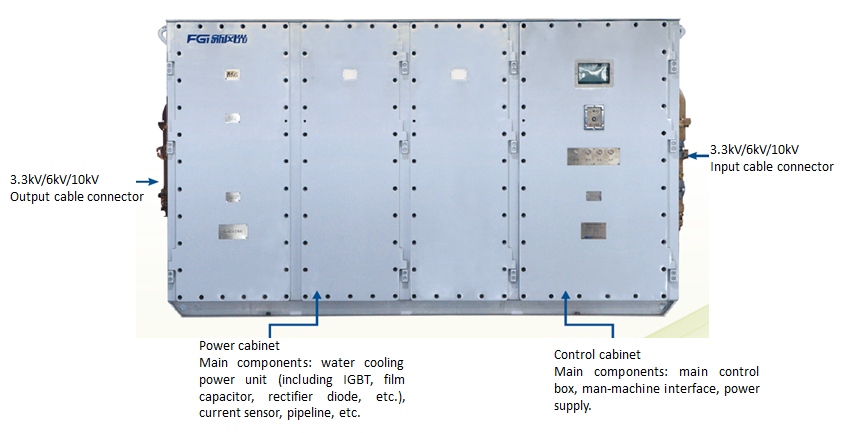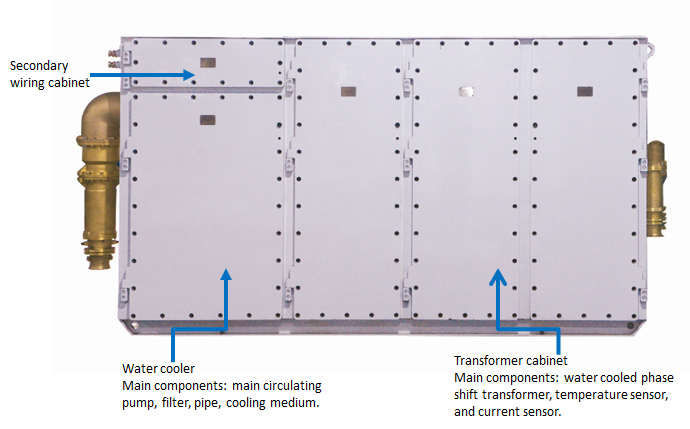 Product features
High speed DSP control core adopts SPWM modulation technology;
Using space voltage vector control technology, it has the advantages of small starting current, large output torque, smooth speed regulation, small impact on power grid and easy centralized control;
The built-in PID function can adjust the voltage and frequency of the motor working power supply according to the change of the motor load or the change of external variables (such as pipeline pressure), so as to achieve the desired goal torque demand, obvious energy saving effect, economic and stable operation;
Using power unit series multilevel technology, high reliability and easy operation;
Meet all kinds of load speed regulation requirements of users, improve the production process;
The harmonic index is far less than the harmonic standard of IEEE 519-2014, the input power factor is high, the output waveform quality is good, and it is unnecessary to use the input harmonic filter and power factor compensation
Compensation device and output filter; There are no additional heating, torque ripple, noise, output DV / DT, common mode voltage and other problems caused by harmonics.
Perfect protection mechanism: the power unit includes a variety of protection functions, such as phase loss, over-voltage, over-current, under voltage, communication fault, etc. The machine can still bypass automatically; The whole machine protection includes input over-voltage, input under voltage, output phase loss, software over-current, motor overload, output short circuit, instantaneous power failure and leakage current lock, insulation monitoring, protective grounding, power electronic power device overheating and other protection functions.
Current limiting technology: if the current exceeds the limit value, the increase of current is limited by frequency reduction until the current is less than the limit value, the frequency converter returns to normal operation frequency.
Acceleration and deceleration adaptive function: the product adjusts the acceleration time or limits the motor operation frequency according to the motor current, so as to limit the current and realize no over current during acceleration and deceleration. In the process of frequency reduction, the frequency reduction time is adjusted according to the bus voltage, so as to achieve the function of no overvoltage in the process.
Vibration suppression function: when the motor is under light load or no-load, local instability will occur. At this time, the current amplitude fluctuates greatly, which may cause the system to be damaged by over-current or over-voltage trigger protection and current oscillation suppression function can effectively suppress the current oscillation and ensure the stable and reliable operation of the system.
Over voltage stall Technology: in the process of frequency reduction, the motor is in power generation state, forcing the bus voltage to be raised. This function will automatically lengthen the frequency reduction time to prevent the shutdown problem caused by bus overvoltage.
Technical parameter
Input

Phase, Frequency, Voltage

Three phase, 50/60Hz、3.3kV/6kV/10kV

Tolerance

Supply voltage ± 20%,50~60Hz ± 5%, voltage unbalance rate < 3%

Output

Rated voltage

3.3kV/6kV/10kV

Rated current

100% rated current continuous

Output frequency

0~120Hz

Output waveform

Multiplex SPWM sine wave

Basic control performance

Control mode

V/F, SVC

Carrier frequency

0.5kHz~16kHz(can be adjusted automatically according to the load)

Frequency resolution

Digital setting: 0.01Hz Analog setting: maximum frequency × 0.025%

Speed range

1:100(SVC)

Steady speed accuracy

± 0.5%(SVC)

Torque control accuracy

± 5%

Overload capacity

150% / 1min (120% - 250% optional)

Torque boost

Automatic torque boost; Manual torque boost by 0.1% ~ 30.0%

Simple PLC, multi speed operation

built-in PLC or control terminal to achieve up to 16 speed operation

Built-in PID

can easily realize the closed-loop control

Automatic voltage regulation (AVR)

keeps the output voltage constant when the grid voltage changes

Over voltage and over current stall control

Automatically limited during operation to prevent frequent over-voltage and over-current fault tripping

Fast current limiting function

Minimize the over-current fault and protect the normal operation of frequency converter

Torque limitation and control

Automatically limited torque during operation to prevent frequent over-current trip.

Special functions

Point to point communication

Can realize master-slave control

Multi communication protocol

Modbus, Canlink and Ethernet

Fast current limiting

Avoid frequent over-current fault of frequency converter

Motor type

AM,PM motor

Input

Digital input

8 channels

Analog input

4 channels:0-10V/2-20mA selectable

Output

Digital output

6 channels

Analog output

4 channels: 0-10V/2-20mA selectable

Protection

Over voltage, under voltage, over-current, overload, short circuit, over temperature, leakage blocking, lack of phase protection and other functions

Running

Control command

Keypad, Terminal, Communication(switching)

Speed command

10 kinds of frequency sources: digital, analog voltage, analog current, communcation. It can be switched in many ways

Display

LED display

Display setting parameters

HMI

Display operation status: output frequency, output current, temperature, operation curve, alarm information, fault analysis, etc

Environment

Location

Underground coal mine, no corrosive gas, in the environment with explosive mixture of coal dust and gas, in the environment without damaging the insulation of gas or steam.

Altitude

Less than 2000 meters; atmospheric pressure is (0.08 ~ 0.11) MPa;

Temperature

0 ℃ ~ + 40 ℃ (above 40 ℃, derating)

Humidity

Less than 95% RH (+ 25 ℃), no condensation

Vibration

In the place without significant vibration and impact

Storage temperature

- 20 ℃~ + 60 ℃

Structure

IP degree

IP54

Explosion proof grade

Exd [ib] I Mb

Cooling method

Water cooling

Model No.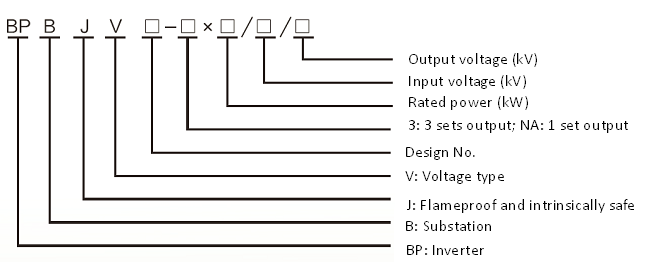 Dimension

Outline dimension diagram
3.3kV series mine flameproof and intrinsically safe inverter
Model No.

Rated power(kW)

Rated input voltage(kV)

Rated output voltage(kV)

Running quadrant

Cooling mode

Dimension

W

H

D

BPBJV1-525/10/3.3

~BPBJV1-2000/10/3.3

525~2000

10

0~3.3

Two quadrant

Water cooling

3494

1748

1500

BPJ1-3×525/3.3

~BPJ1-3×2200/3.3

3×(525~2000)

3.3

0~3.3

Two quadrant

Water cooling

3900

1400

1300
6kV / 10kV series mine flameproof and intrinsically safe inverter
Model No.

Rated power(kW)

Rated input voltage(kV)

Rated output voltage(kV)

Running quadrant

Cooling mode

Dimension

W

H

D

BPJV1-710/6 ~BPJV1-1200/6

710~1200

6

0~6

Two quadrant

Water cooling

3600

1800

1400

BPJV1-710/10 ~BPJV1-2000/10

710~2000

10

0~10

Two quadrant

Water cooling

3600

1800

1400
Note:
1. The above dimensions are for reference only, please refers to the real object for details;
2. Due to product upgrading, the contents of this manual will be updated regularly. If you need to buy our products, please refer to the latest product manual;
Applications:
Explosion proof variable frequency speed regulation is a high efficiency and high performance speed regulation mode. By controlling the asynchronous motor (or synchronous machine), it can realize step-less smooth speed regulation and meet the requirements of various production machinery. The use of variable frequency speed regulation in coal mine has become the current trend of mine equipment speed regulation. The main equipment loads of explosion-proof inverter used in underground are: belt conveyor, scraper, winch (monkey car), shearer, all kinds of fans, water supply and drainage pump, emulsion pump, etc.;
The explosion-proof frequency converter is suitable for the speed regulating operation of the motor driven by various mining, transportation, ventilation, drainage and other equipment under the condition of coal dust and gas explosion gas content not exceeding the specified safety content in the coal mine, realizing the functions of motor heavy load soft start and soft stop, step-less speed regulating, energy feedback and energy saving.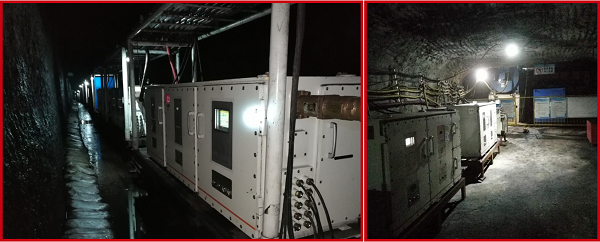 Customer Visit

Our Service
OEM Service is available
After-sales responding within 24 hours
One to one pre-sales consulting services
We are factory with high-tech professional engineer teams
Technician could be assigned to go abroad to carry out site commissioning and technical training
FGI SCIENCE AND TECHNOLOGY CO., LTD
FGI-Tech, a diversified electrical supplier and manufacturer, provides world class AC motor products - medium voltage drives and explosion-proof AC inverter, advanced power distribution systems and power quality solutions. FGI-Tech is committed to innovating energy technology to make broad contributions to the world in the fields of industry automation and energy power".
The FGI-Tech's medium voltage variable frequency drives, feature a unique technology that allows FGI-Tech to offer a simple, flexible and reliable drive solution. Building on many years of experience, FGI-Tech has demonstrated capability as innovator with an imaginative approach to the design and development of high performance electric power systems, enabling greater affordability, efficiency and reliability.
FGI-Tech's BPJV series mining explosion-proof and intrinsically safe AC inverter as one of the high-tech products which combine digital frequency speed regulation technology and related cooling technology. It is widely used in coal mine with coal dust, gas and other explosive dangerous environment, dragging speed governing operation of motor to achieve soft start and soft stop, stepless speed regulation and other functions when the motor is overloaded.
FGI-Tech's distribution transformers are manufactured using the highest quality materials, employing the most modern and reliable manufacturing practices. These Transformers are used for indoor or outdoor applications and can be provided with off-load and on-load tap changers.
FGI-Tech's power quality products consist of static var generators (STATCOM). SVG is the best solution in the reactive power control field at present and has unparalleled advantages. It makes energy more efficient by stepless power factor correction. It is widely used in the application of Renewable power generation, Electrical welding systems, Industrial production machines and so on.
At FGI-Tech we believe in building strong relationships, helping our customers through the complete product life cycle, from selection and electrical system design through to commissioning assistance and after sales service and support. FGI-Tech supports electricity infrastructure with proven technologies to ensure that energy can be supplied in a stable, reliable, and optimal manner.
With standard controls, critical parts, packaged assemblies, and electrical/electronic components are stocked and ready to ship from FGI-Tech.
FGI-Tech aims to pursue innovation in energy and environment technology and to continue creating high-value-added, environmentally friendly products and systems that allow energy to be used stably and with maximum efficiency.
We hope that you are always holding FGI-Tech to high standards.

Company Name: FGI SCIENCE AND TECHNOLOGY CO., LTD
Representative: Mikhail Feng
Product/Service: Medium Voltage Drives , Low Voltage Drives , Distribution Transformers , Dry Type Transformers , Static Var Generator , Static Synchronous Compensator
Capital (Million US $): 500,000RMB
Year Established: 2015
Total Annual Sales Volume (Million US $): US$1 Million - US$2.5 Million
Export Percentage: 91% - 100%
Total Annual Purchase Volume (Million US $): US$1 Million - US$2.5 Million
No. of Production Lines: 10
No. of R&D Staff: 21 -30 People
No. of QC Staff: 11 -20 People
OEM Services Provided: yes
Factory Size (Sq.meters): 5,000-10,000 square meters
Factory Location: Middle section of jincheng road, economic development zone, wenshang county, shandong province
Contact Person: Ms. Miranda Mu
Tel: 86-86--13723461681